vacuum evaporator
KLC-MASTER Line
With a modular basic structure you are fit for the future. Optional expansion stages enable you to create a tailor-made system.
Vacuum Evaporator KLC-MASTER Line
The newest vacuum evaporator of the KMU LOFT Cleanwater is characterized by its modular design. This guarantees completely application-specific and tailor-made adaptation options. It convinces with an absolutely reduced space requirement and a very good accessibility.
non-binding
first recommendation
Our experts have well-founded experience in a wide variety of industries.
First
laboratory report
When designing new plants, we carry out extensive tests of your waste water.
First
test report
We would be pleased to provide you with our modern test facility.
Recommendation for
plant configuration
We implement the data in the conception of a tailor-made evaporator plant.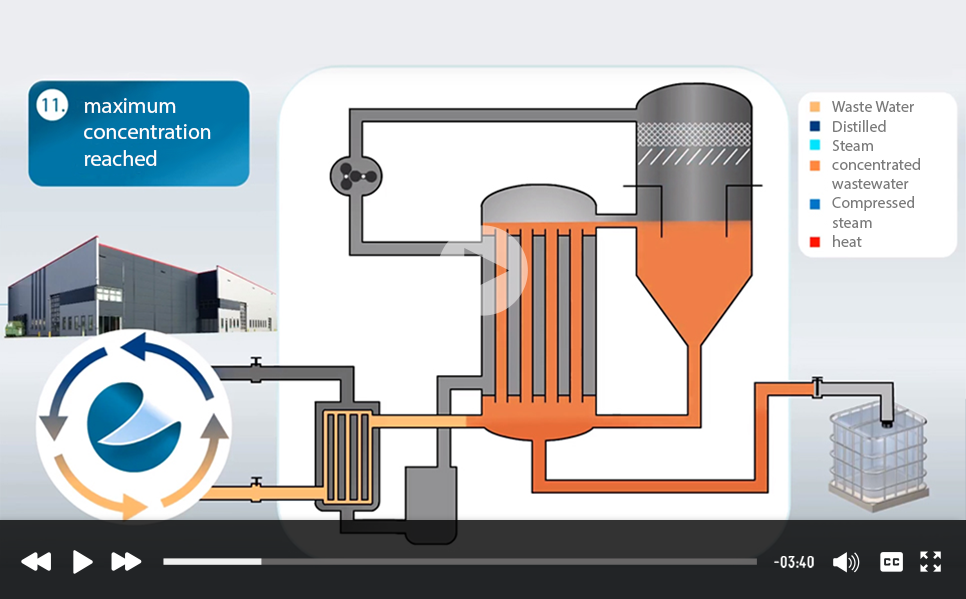 Suitable for the following process waters:
Process water from manufacturing and production processes from a wide variety of industrial sectors
Wash water and cleaning water
Rinse water and active baths
Moderately radioactive water
Water containing separating agents and glycol
Landfill leachate, mine water
Water containing reusable materials, recycling
Special features:
Optimized to treat a wider range of the most difficult process waters covering all applications producing emulsion/oil and salt containing process waters
Proven optimum values for distillate quality by optimised design without usage of additional upstream and down-stream treatment of the process water
Higher concentration of the concentrate by adjustable natural forced evaporation
Reduced footprint and installation space due to compact design and optimized service access
Cost savings due to lower residual disposal quantity
Fully automated cleaning system reduces service times and ensures maximum user-friendliness
Significant reduction of operating and lifecycle costs
Modular design for customized assembly of additional kits
Latest control system, intuitive operation und easy handling of the machine visualization
KLC-MASTER Line Zubehör
For the process water treatment and for the further treatment of the distillate, we also offer suitable processes for pre- and post-treatment.
These are ideally adapted to the evaporator according to your requirements.
Depending on the treatment stage, they could be integrated directly into the MASTER Line or be used as the periphery of the evaporator as a fully automated system solution.
Do you need appropriate operating supplies and materials? We will be happy to advise you, or you could also take a look directly at the operating supplies page.
Efficient and sustainable
The use of the natural circulation evaporator KLC-MASTER Line is extremely energy-efficient and environmentally friendly. The system is characterized by good heat transfer, low investment and operating costs, and good cleanability - as a rule, the natural circulation evaporator pays for itself within a very short time.
KLC-MASTER Line®
You want to know more about vacuum distillation with integrated,
modular structure?
The product sheet for the KLC-MASTER Line can be found here.
Contact us
Contact us - our experts will be happy to advise you,
when it comes to waste water treatment.
Our KMU LOFT commitment to you
KLC Newsletter
Subscribe to our newsletter now!
and benefit from exclusive offers and promotions.