Metalworking/-production
Various processes are used in the metalworking and metal production industry. In particular, the large number of metal-cutting production steps generates a large quantity of used cooling lubricants.
Typical process water types:
emulsions with cooling lubricants (coolants and lubricants)
release agents (aluminum die casting)
wash waters
rinsing and active baths
electroplating and grinding waters
rinsing water from crack detection systems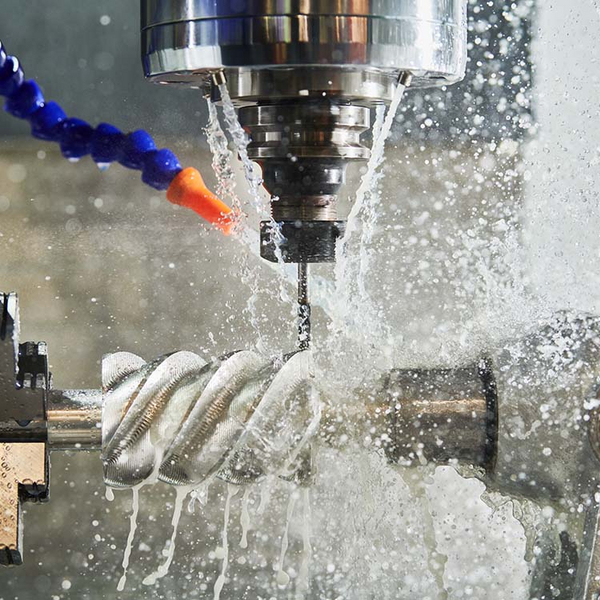 Advantages of process water treatmen
Benefit from the advantages of process water treatment.
Cost savings
The disposal of these process waters is associated with high costs. A more efficient and cost-effective method is process water treatment with a KLC vacuum evaporator. This reduction in volume means a corresponding reduction in disposal costs.
Pollutant cleaning
Cooling lubricant emulsions have a high content of COD-causing substances due to free oils or low-boiling components. These process waters impair the quality of the distillate. Thanks to KLC vacuum evaporation, these components are also safely removed.
Recycling
The distillate produced during process water treatment is ideally suited for recycling and reuse, for example, by:
- the compensation of water losses in various rinsing and process baths
- new bath preparations
- cleaning purposes
With KLC vacuum evaporator technology, you can purify process water to produce up to 98% recyclable distillate. Ideally, you can recycle it into the industrial process. In this case, the fresh water requirement is decisively reduced.
Process water treatment as individual as you are
KMU LOFT Cleanwater develops process water treatment specifically for its customers, tailored to individual company.