Treatment for oily process water
Proper process water treatment for every production
Large amounts of oily process water are generated in the metalworking industry among others. In the die-casting sector and in metal-cutting production, process waters containing release agents i.e. oily cleaning waters with organic ingredients are generated.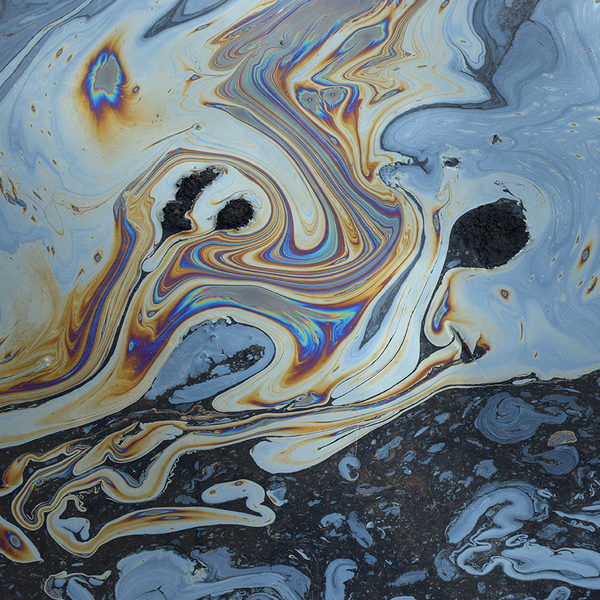 Process water treatment with KLC - a step ahead of the competition
Ölhaltiges Prozesswasser wird bevorzugt mit einem KLC-Naturumlauf-Vakuumverdampfer behandelt. Dabei ist oftmals nicht die gesamte Bandbreite der Vor- und Nachbehandlungsschritte notwendig.
Zunächst werden grobe Verunreinigungen wie etwa Metallspäne durch eine Vorfiltration, beispielsweise einem Bandfilter, aus dem Prozesswasser entfernt. Eventuell ist eine pH-Wert Anpassung notwendig und freie Ölphasen werden vor der Verdampfung abgetrennt. Das Prozesswasser wird mit einem KLC Naturumlauf Vakuumverdampfer sicher und effizient aufbereitet. Öle und leichtsiedende Komponenten werden sicher aus dem Prozesswasser entfernt.
Das Ergebnis ist ein glasklares und nahezu ölfreies Destillat. Die hohe Destillatqualität ermöglicht einen Wiedereinsatz in der Produktion. Das ölhaltige Konzentrat kann aufgrund des geringen Restwassergehalts einer energetischen Verwertung zugeführt werden.
Process water containing oil is preferably treated with KLC natural circulation vacuum evaporator. The full range of pre- and post-treatment steps is not often necessary. First, coarse impurities such as metal chips are removed from the process water by pre-filtration, for example belt filter. A pH adjustment may be necessary and free oil phases are separated before evaporation. The process water is treated safely and efficiently with KLC natural circulation vacuum evaporator. Oils and low-boiling components are safely removed from the process water. The result is a crystal clear and virtually oil-free distillate. The high distillate quality allows reuse in production. Due to the low residual water content, the oily concentrate can be recycled for energy recovery.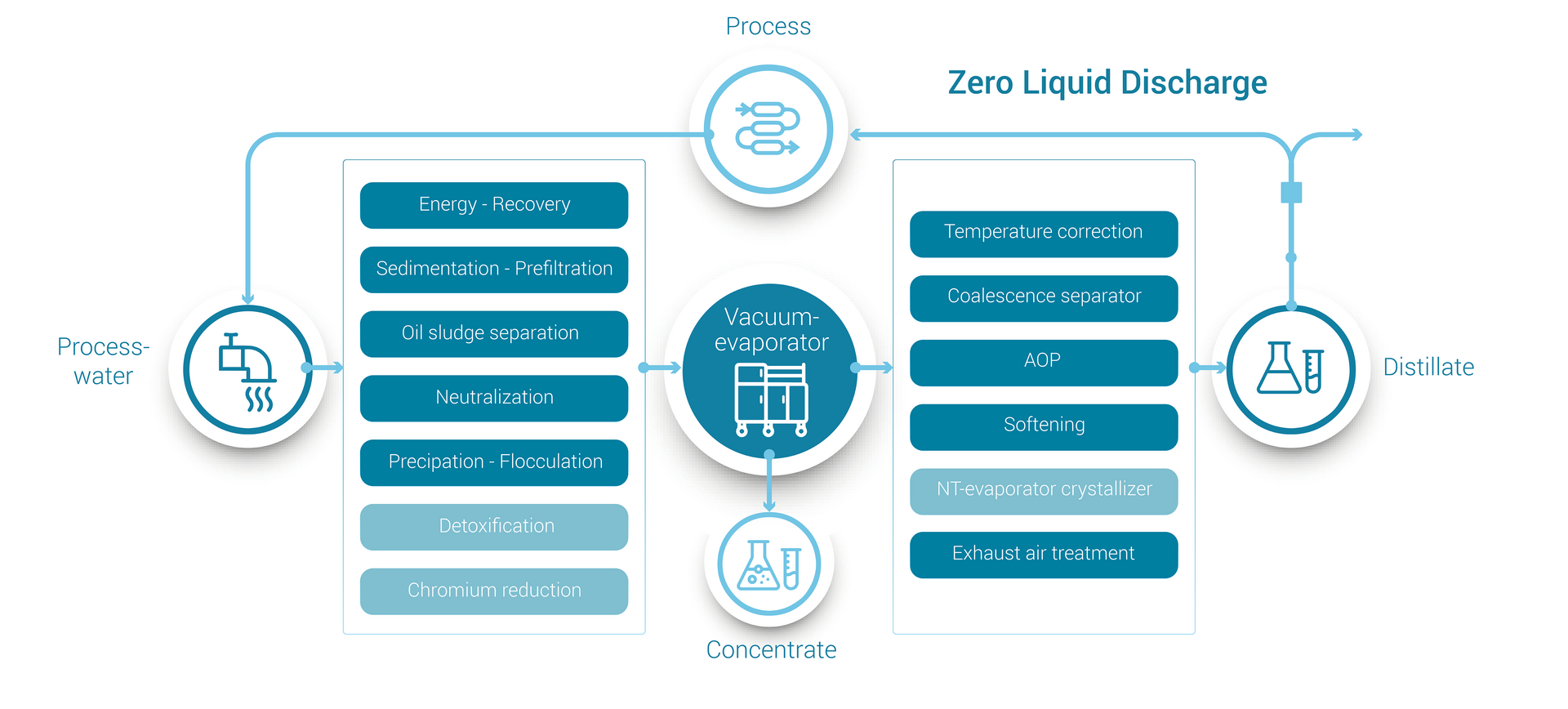 Benefit from the professional service of KMU LOFT Cleanwater
KLC natural circulation evaporator offers you numerous advantages for your process water treatment:
Comprehensive consulting & process water analysis by the KLC competence team
Process solution tailored to your specific process water
Reliable compliance with limit values, especially for pH value, conductivity and COD
Low residual water content of the oily concentrate with possibility of energy recovery
Turnkey & space-saving complete system
Low operating costs thanks to maximum energy efficiency
Low disposal costs due to recirculation
Low operating costs thanks to fully automatic operation
User-friendly KLC machine control
Industry 4.0 capable
Treating oily process water with a KLC solution is economical and sustainable.
Different methods for process water treatment of oily process water
Cooling lubricants and emulsions
Emulsions with cooling lubricants typically occur in the following oily process waters:
general metalworking/processing for heat dissipation and friction reduction
mechanical processing in the automotive/space industry
waste disposal
The use of KLC vacuum evaporator significantly extends the lifetime of the bath. The purified distillate is fed back into the bath circuit and saves fresh water additionally.
Waste water with release agents and glycols
The die casting process is mainly used in metal machining/processing and in the automotive/space industry.
The release agent used serves, among other things, to improve the surface structure of the manufactured parts and to prevent metal residues.
Crack testing water
Crack testing is one of the non-destructive material tests.
This test method is used:
in metal working/processing
in the automotive/space industry
It is used to make cracks in the surface visible by the dye penetrant method.
Paint pretreatment / Surface technology
In surface technology, thorough cleaning is a prerequisite for optimum painting results.
During the degreasing of surfaces, oily process water is produced. The rinsing water quality is of decisive importance for the cleanliness of the surface to be coated and subsequently for the quality of the subsequent surface coating.
Parts cleaning / Degreasing
Parts cleaning and degreasing are not only used in surface technology. In principle, they are used in all industries.
Oily process water is generated:
during maintenance and repair in the automotive and aerospace industries
in the cleaning of production plants
in end products of the pharmaceutical, chemical or food industry
Hardening
Hardening is used to increase the mechanical resistance of ferrous materials. This is achieved by heat treatment and rapid cooling (quenching) of the workpiece.
Baths with oil or oil-water mixtures are often used as cooling medium. After hardening, the workpieces are cleaned for the subsequent process steps.
Here, rinsing water quality is of decisive importance for the cleanliness and quality of the surface to be coated.
Vehicle cleaning/ MRO/ Maintenance
Before maintenance, repair or overhauling of maintenance and wear parts of commercial vehicles such as aircraft, locomotives/train cars and trucks, they must be cleaned beforehand.
The process water produced is usually oily due to the use of lubricants in the operation of the parts to be maintained, such as gearboxes and axles. The cleaning process optimally prepares the components for subsequent processes such as crack detection, mechanical machining and surface treatment.
Tank and container cleaning
All industrial sectors generate used containers that can ideally be reused or disposed of cleaned after a rinsing process.
These include:
transport containers
drums
reusable packaging
KLTs (small load carriers)
In addition to cleaning agents, the process waters also contain small quantities of the transported ingredients of any kind. KLC vacuum technology ensures cost-effective and efficient process water treatment.
The aim is to return the cleaned process water to the rinsing circuit. In the process, the amount of concentrate to be disposed of is reduced to a minimum. Significant amounts of fresh water can be saved via distillate reuse.
Washing and cleaning wastewater (oily)
In numerous areas of metal working and processing, washing and cleaning steps are necessary in preparation for subsequent production steps.
This includes, for example, the cleaning of:
gearbox and engine components
clutch housings and chassis components
parts of rail vehicles
white goods parts
A challenge in parts cleaning is not only the geometry of the parts to be cleaned but also the choice of the right cleaning agent. These oily process waters are treated efficiently and safely using KLC vacuum evaporator technology.