VACUUM EVAPORATOR
DESTIMAT LE
The evaporator plant is particularly suitable for difficult process waste water and also convinces with very low energy consumption due to heat recovery.
KLC-DESTIMAT LE Evaporator
If you want a wastewater-free cycle, our evaporation technology is your perfect choice. Our evaporators recover up to 98% reusable distillate, at such a high quality that you can either reintroduce it directly into your process cycle or lead it into the sewage system. All our evaporators feature ultimate flexibility, reliability and process safety, they are easy to use, and designed for 24/7 operation all year round.
Non-binding
first recommendation
Our experts have well-founded experience in a wide variety of industries.
First
laboratory report
When designing new plants, we carry out extensive tests of your waste water.
First
test report
We would be pleased to provide you with our modern test facility.
Recommendation for
plant configuration
We implement the data in the conception of a tailor-made evaporator plant.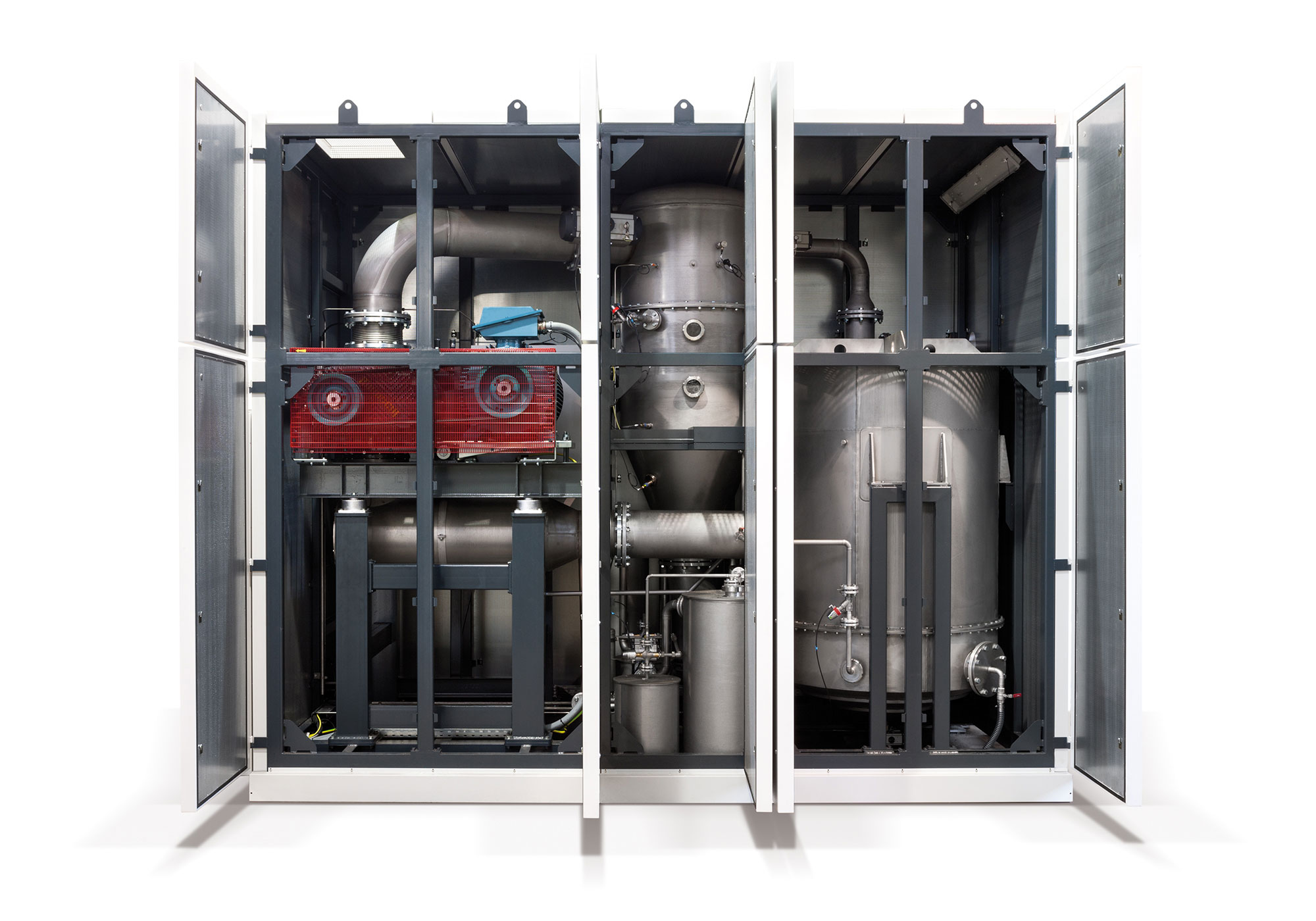 Vacuum distillation system with natural circulation
The DESTIMAT LE series comes with natural circulation. LE in the name stands for Low Energy. This set-up produces very low energy consumption and high-quality distillates, even with the most challenging types of wastewater.
An innovative multi-stage separation system, called cyclone separator, delivers optimum wastewater cleaning results, while ensuring operational safety of the vacuum pump and the entire system. In an internal process heat is exchanged from the distillate to the incoming wastewater, increasing the system's energy efficiency even further. The system does not require any additional heaters or pumps, lowering energy consumption and operating costs.
How much wastewater can be processed?
The DESTIMAT LE series features different models from 9,323 ft³ to over 812,237 ft³ wastewater per year.
Suitable for the following process waters:
Active baths and rinse water from surface technology
Cooling lubricants, emulsions
Washing and cleaning process water
Rinse water from crack detection systems
Process water with release agents
Penetrants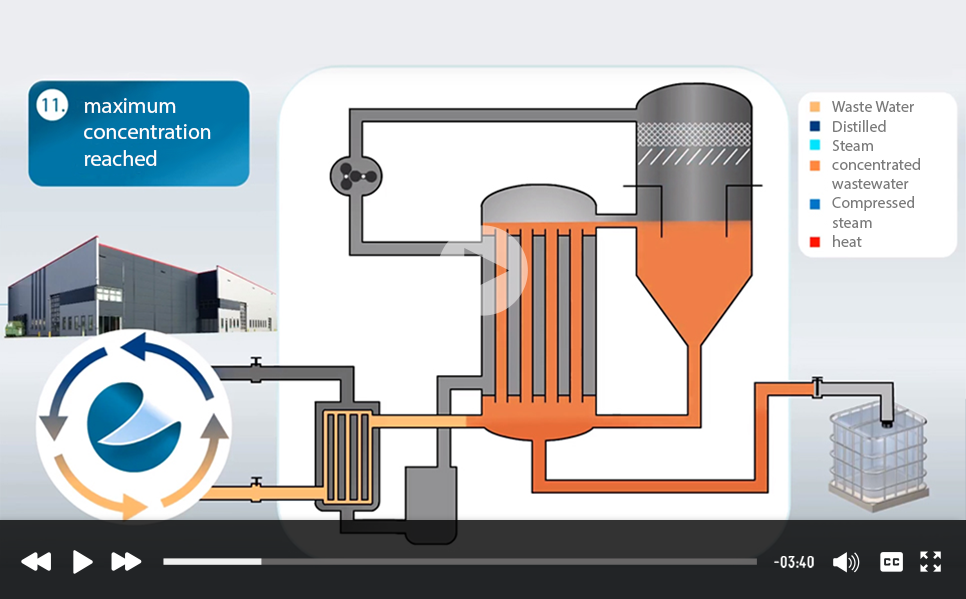 DESTIMAT LE special features
Very well suited for emulsion/oil containing process waters
Well suited to treat a wide range of process waters
Optimized for very low energy consumption due to maximum heat recovery
Constant performance over a wide concentration range
Compact design and optimum accessibility
Fully automated effective cleaning system
Available for high process water production
Optional with "BestDest" technology for best quality of the distillate
User friendly interface with internet connection, remote diagnosis and control
DESTIMAT LE accessories
KMU LOFT offers a range of effective pre-treatment and post-treatment options for process water and distillate, e.g. neutralisation, oil separation, detoxification, and sludge separation. We adapt these individual treatments to your specific requirements and your existing system. The treatments can either be integrated into the plant or they can be used as a fully automatic system solution in the evaporator periphery.
KMU LOFT offers a broad range of innovative operating supplies and accessoires. You find additional information on our operating supplies pages.
USER REPORT
Toyota engine production
Return on investment after only 1.5 years
Toyota Engine Plant, based in North Wales, manufactures engines using aluminum casting processes. As with all metalworking processes, this casting process produces dirty and rinsing water. In most cases, release agents must be removed from the wastewater to prevent the metal from sticking to the mold.
With the DESTIMAT LE 150 evaporator, Toyota reduces waste water and disposal costs almost completely. With a cost saving of around EUR 90,000 per year, the high-performance vacuum pump pays for itself after only 1.5 years.
Downloads
Would you like to know more about vacuum distillation with natural circulation
and vapor compression?
You can find the DESTIMAT LE product sheet here.
Contact us
Contact us - our experts will be happy to advise you,
when it comes to waste water treatment.
Viele Kunden freuen sich über uns, wir freuen uns auf Sie.
KLC Newsletter
Melden Sie sich jetzt für unseren Newsletter an
und profitieren Sie von exklusiven Angeboten und Aktionen.